I'll explain how to write a weekly planner for work using sticky notes.
I've been doing it for about 5 years, I especially recommended for those who do the same work weekly or monthly.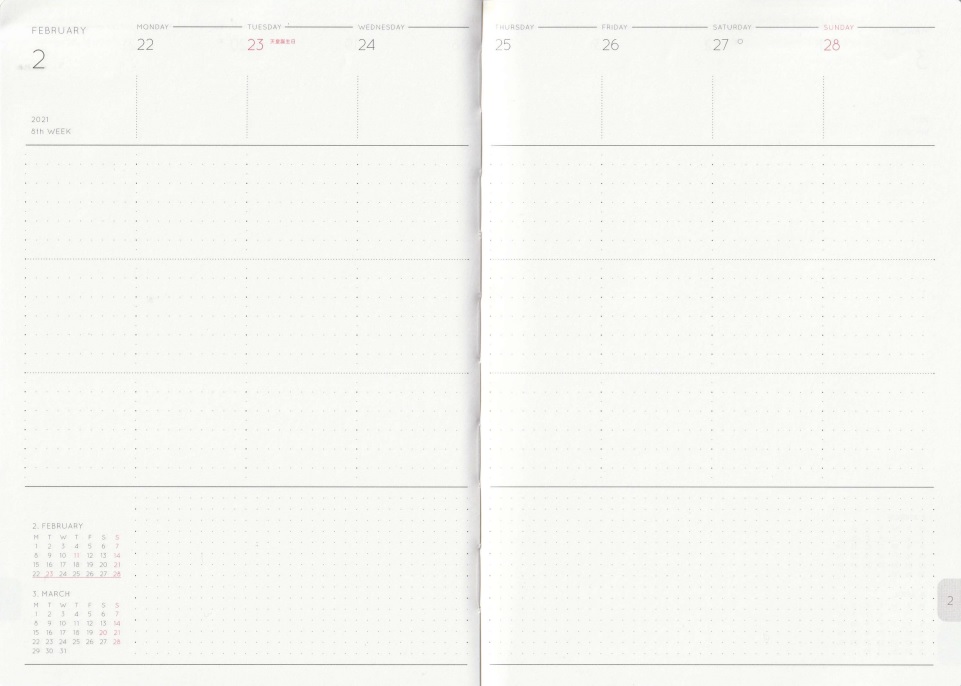 I use "free vertical planner" by HIGHTIDE.
It is similar to a vertical planner, but it has no time axis and is a format that can be used freely.
There are various names such as "weekly notebook" depending on the manufacturer.
HIGHTIDE free vertical has a dot grid, which makes it easier to write with aligned characters than plain paper.
Also, because the paper quality is solid, it is durable and does not wrinkle easily even if you put or remove sticky notes.
I will explain how to use it concretely.
WRITE TASKS ON STICKY NOTES
On the sticky notes, write down the tasks to be repeated such as weekly or monthly, and the fixed schedule.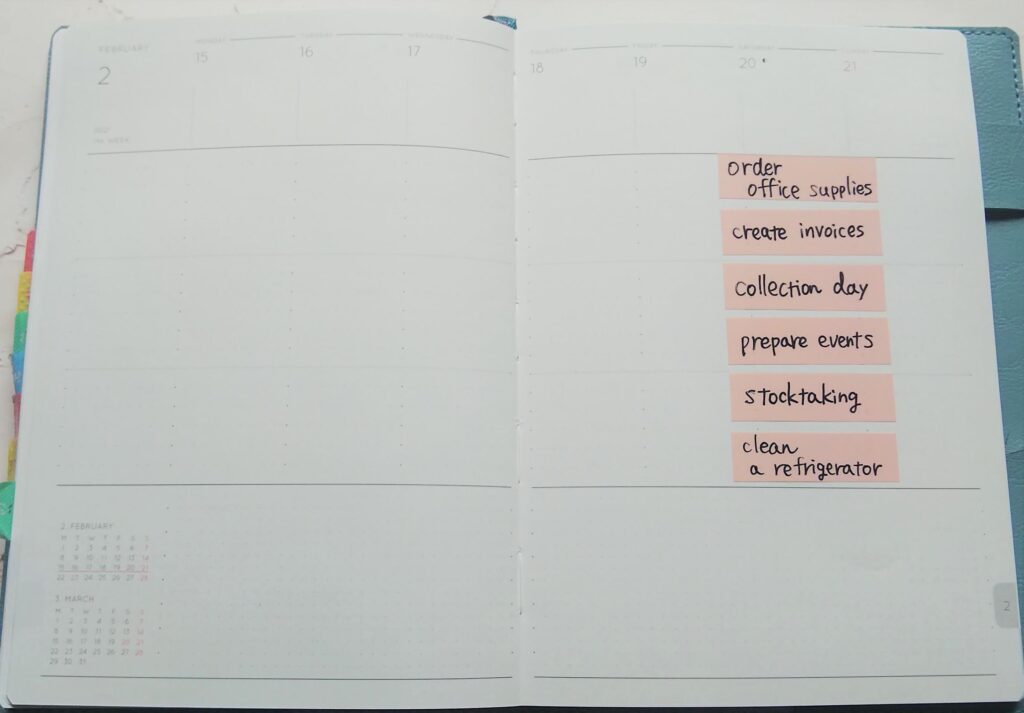 Paper sticky notes are fine, but I write on film sticky notes with an oil-based marker.
This is because film sticky notes don't easily break or weaken like paper even if they are stuck and peeled off many times.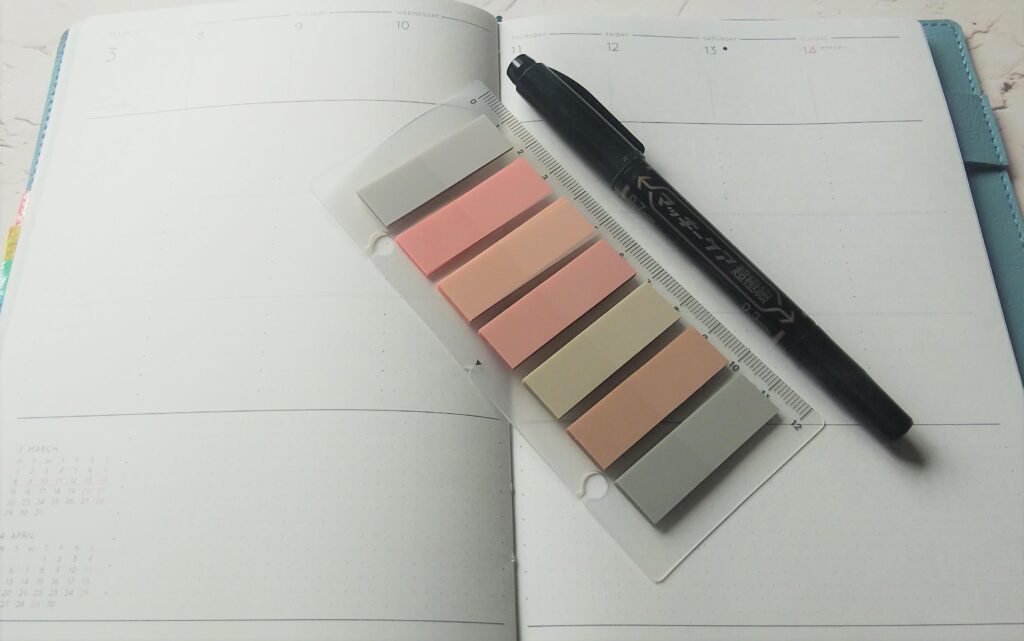 Film sticky notes are made of slippery materials and are sold at 100-yen shops.
I also recommend Kanmido's "kokofusen", which has a wide variety.
As for the oil-based marker, Zebra's "Mackee Care Ultra Fine" product is highly recommended.
It is much thinner than normal Mackee and easy to write even in fine letters.
STICKY NOTES ON THE DAY YOU DO THE TASK
Decide on which day you do the task and move the sticky notes below the date.
Move the sticky notes with the schedule in the same way.
Fill in the leftmost margin with what you do only for the week.
Schedules with a fixed date and time are entered below the date.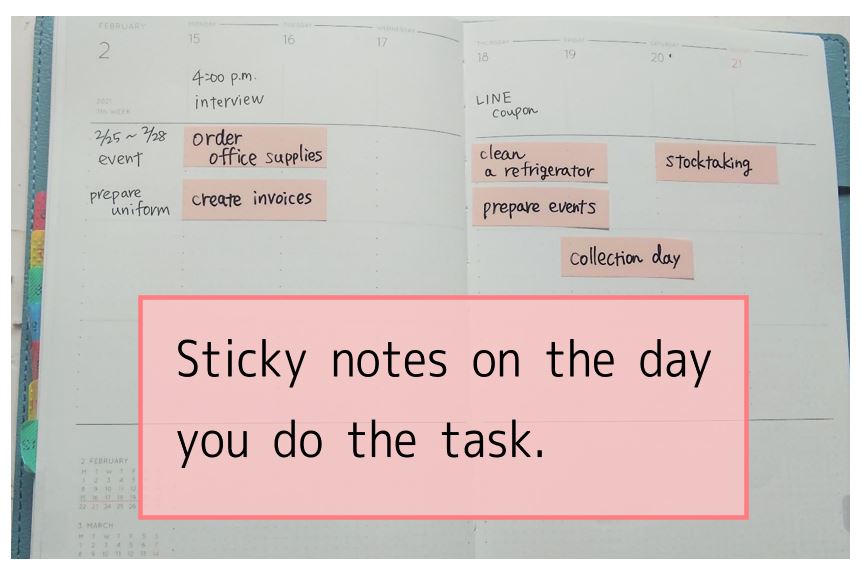 FILL IN ALL THE TASKS FOR ONE DAY
Write down the sticky notes tasks below the date.
If there are other tasks to be done, write them.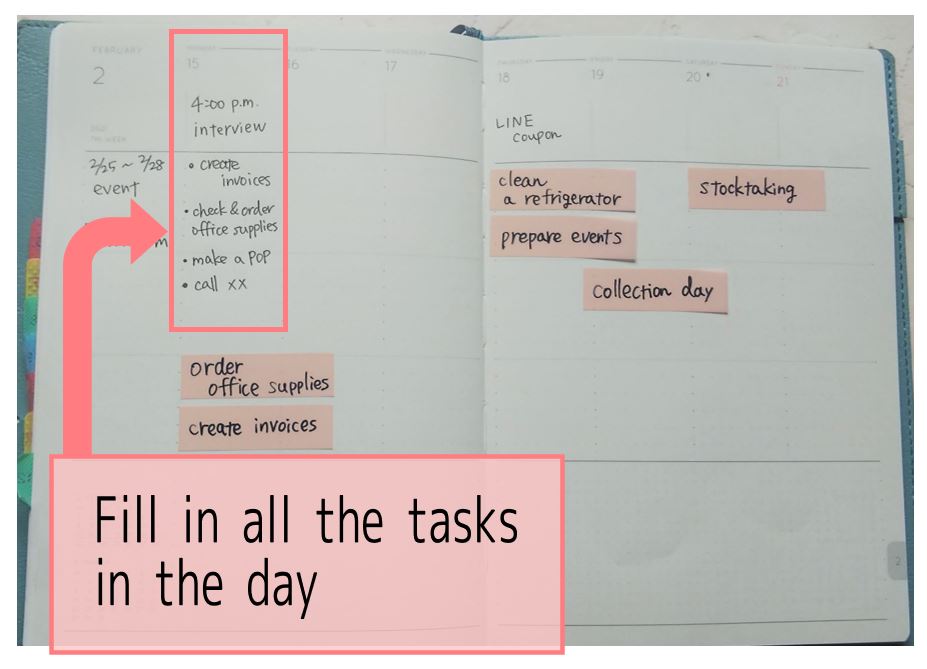 Writing the same content as a sticky notes can be a hassle, but when you look back it's easy to see when it ended so you should write like this.
Draw a red line when you finish the task.
If you can't do it, you write the same task on another day.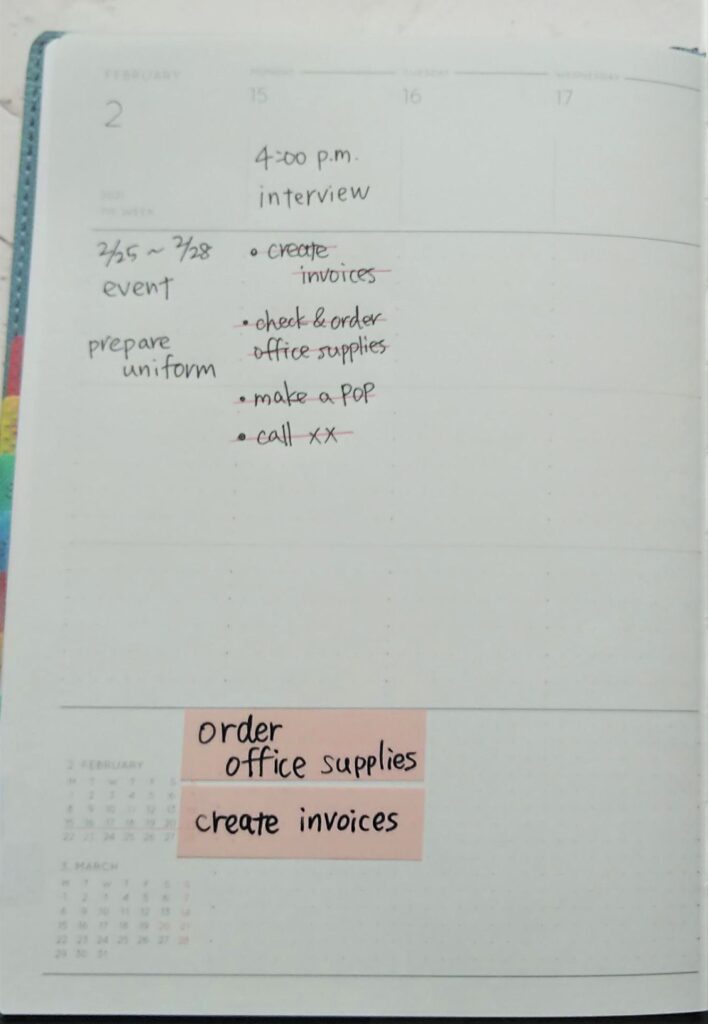 IF YOU HAVE A TASK TO ASK, FILL OUT A LARGE STICKY NOTE AND HAND IT OVER
If you want to ask another person or if you want to do it on your day off, write it on a large sticky note and hand it over.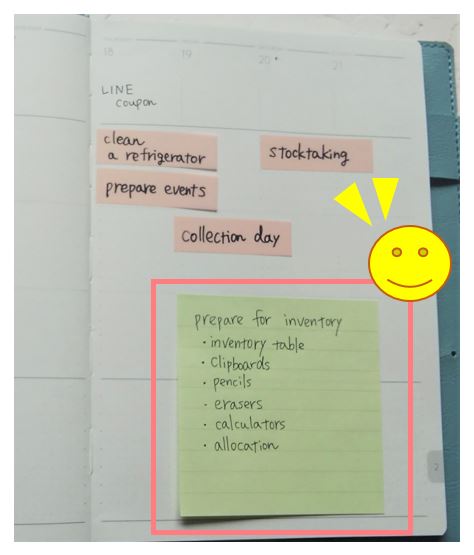 Not only do you say it, but if you write it down and leave a note, others will never forget it.
LIST MULTIPLE TASKS SUCH AS BIG EVENTS
Preparations are required for large-scale events, consecutive holidays, and the year-end and New Year holidays.
It's impossible to finish in a day, so you don't panic if you list tasks.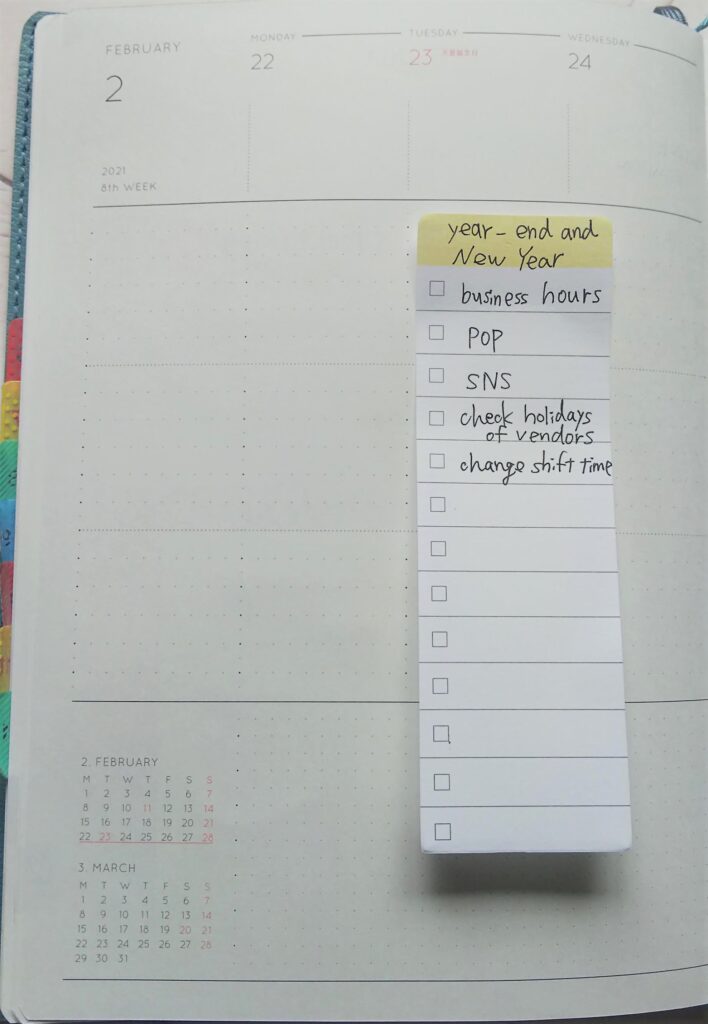 I use Muji checklist sticky notes, cute sticky notes are also solid at 100-yen shops and stationery makers, so it's fun to choose your favorite pattern.
---
That's it.
I used the free vertical planner this time, but I also posted images of other weekly planners usage examples.
If you find something that seems easy use, please try to imitate it.
WEEKLY LEFT PLANNER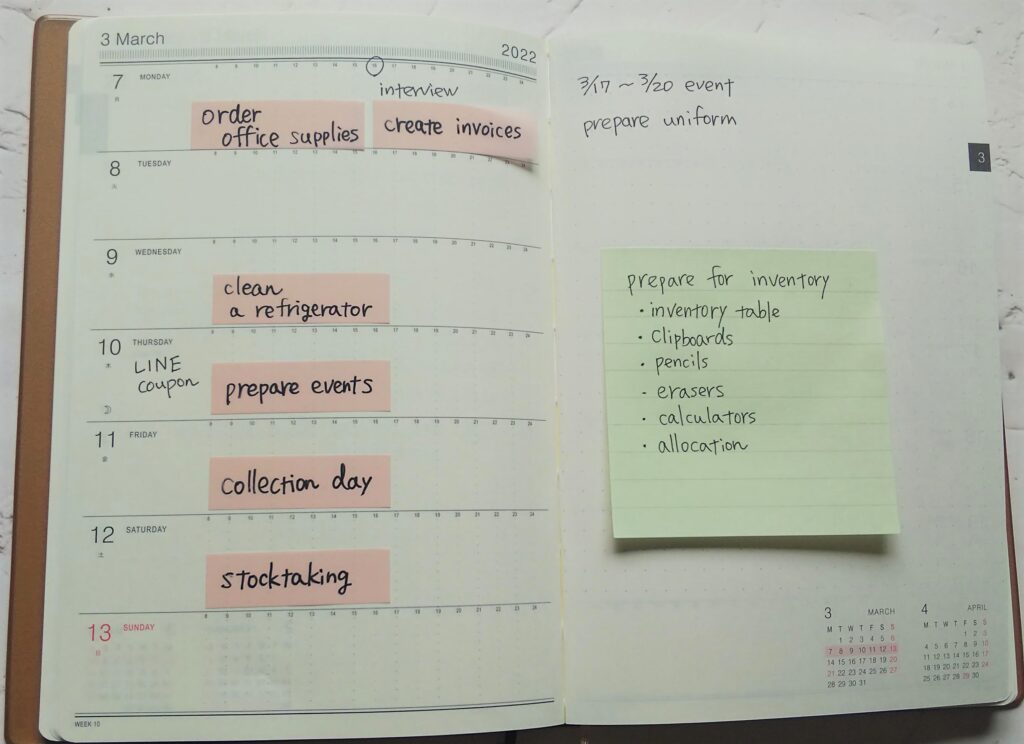 WEEKLY VERTICAL PLANNER